Arabian Fantasy is a local troupe of dancers who appear at charity events, fairs, carnivals, etc. in the Essex area. I used to dance with them, but of late I've drifted away.. This is the group about three years ago - its changed a fair bit since then, people coming and going..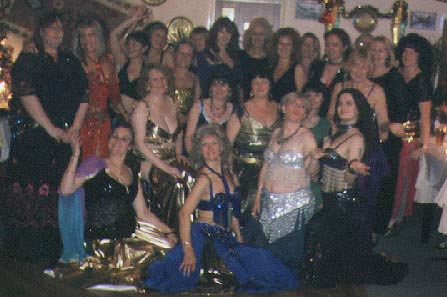 The leader of the troupe is Maureen, who dances under the name Ayesha.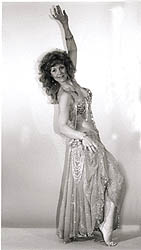 Ayesha has been dancing for more than 10 years and teaching for almost as many. She started out having a few private lessons from a local girl who was in the Guinness book of records for the longest continuous period of belly dancing. She moved onto lessons with another local woman, who then started teaching at a local college - Ayesha followed her.

After a period, she and some friends started entertaining at local care homes and charity events as a way of practicing and getting more dance experience. They later broke away from the main group and became Arabian Fantasy. They were invited by the local council to dance at a demonstration day for the local adult education program, and Ayesha was invited to teach at college. Since then, she has continued to teach at local college evening classes, and to lead the dance troupe in their work and practices at a local hall
Over the years, the troupe has changed as students from the evening class moved to the practice group and others moved on - either giving up dance or moving to other groups in the area.

I'm now one of the latter, but I still remember the troupe fondly... Arabian Fantasy's style of dance is sort of raqs sharqi - the cabaret style, tending towards Turkish influence in style and music. For some pictures of the troupe, click here.