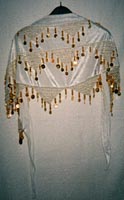 This is a Turkish, triangular hip scarf. I've seen quite a number of people with these scarves. They're made of a stretch jersey velour in various colours, with crocheted trim and heavy gold or silver painted plastic disks and beads.

I liked the white and gold one - most of my costumes are silvery, so I thought it would make a change.

The disks and beads tinkle together and make a nice noise when you dance. The biggest problem with them is that the paint comes off the disks and beads over time. Plus sometimes the thread breaks and coins and disks go spinning off across the floor. But I guess that's a hazard with any of the bead fringes costumes...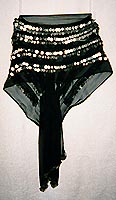 Rectangular hip scarf This hip scarf comes from Egypt. I bought it from Chandra's together with some harem pants and body stockings (pictures to come.) The scarf is made of a sheer black fabric with lines of crocheted trim edged with metallic disks (like tiny coins) across the back.

The ends are also trimmed with crocheted edging and more metallic disks.

The scarf is worn tied around the hips, with the ties at either the side or the front. The "coins" make a lovely noise when you dance, a very sweet metallic tinkling.