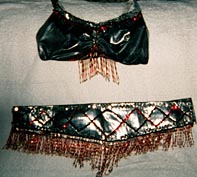 This is the first set I made.

The belt was cut in one piece, with a point at the front and is made from Vilene fabric stiffening, covered in a lovely shiny silver fabric. This fabric is a knitted jersey with the metallic colour printed onto one side. It comes in lots of colours - for this set I chose silver.

After covering it with silver, I used sequin trimming to edge the belt, and then fringed the lower edge. The fringe is made up of alternating red and silver bugle beads, strung through every other sequin on the trim of the lower edge of the belt. I used teardrop shaped beads at the ends of the fringe for the centre front of the belt to emphasise the shape. I then added a crisscross pattern of red and black sequins with beads sewn at the crossover points.

Finally, the belt was lined with a cotton fabric and trouser hooks sewn on as a closure. Two reasons for the lining - it covers the loose ends of the sewing, and its removable. The removable is important - it's not easy to wash something like this, and you do get sweaty when you dance. The lining can be removed, washed or in extreme cases, thrown away and replaced..

The bra is also covered with the same slightly stretchy silver fabric at the front. All I did here was stitch the fabric along the lower edge then fold, pin and stitch it up across the cups. The back and straps of the bra are covered in strips of elasticated sequin trim. This is about an inch & a half wide, and is sewn in lines across the back of the bra where the stretch is required. I also lined the bra, for the same reasons as the belt is lined.

I rarely wear this set now for a few reasons - its simplistic and I've accumulated fancier ones, I lost weight and it doesn't fit well and because of the way the silver is printed onto the jersey it rubs off... so parts of the costume have gone black.