Raqs sharqi is based on baladi, but has been influenced by other dance traditions, from Turkish and Persian, through to ballet. This form of the dance seems to be "lighter", many movements being performed "on toes", and the dancers move around more. There is more movement of the upper body, with arm waves and shoulder shimmies. This is the style sometimes referred to as cabaret (side note: I read on a US site that the term "cabaret" is seen in Europe as referring to something along the lines of a Soho strip club. But in the UK, we don't think of it like that. Generally, cabaret is the entertainment provided at, say a formal dinner - an occasion where the dance is not the main reason for the "party").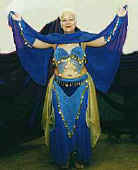 Raqs sharqi tends towards the more glitzy costumes, and follow the Hollywood view of the belly dancer. The bedlah is popular for dancers following this style - heavily sequined and beaded bra with lots of bead fringing, a matching hip belt and a paneled skirt with splits at the sides - either full skirts or more fitted ones that cling to mid thigh then are split and flare out.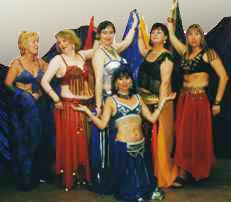 Colours vary, but the bright, sparkly, metallic look is popular for bra and belt, with toning or contrasting skirts. But there are alternatives - all-in-one bodies decorated with jewels and sequins and worn with harem pants or full skirts. Lace or mesh panels joining bra to skirt, or a body stocking worn with the bedlah is popular. Around the hips, dancers will still have beaded and sequined hip belts or perhaps a fringed, beaded or coin decorated hip scarf or wrap. Glitzy, sparkly, sequined dresses are also worm, usually quite clingy and sometimes with cutouts to show off a little.
Music for raqs sharqi varies widely, because it's born of a hybrid of cultures. They range from the simpler Arabic pieces used in baladi, to more modern Turkish and Egyptian tracks. A lot of it is faster and with a range of instruments being used, giving the dancer a wider choice of moves.